MADE CLEAR and NOAA          
Climate Change Academy August 2017 
We are not toast yet: Climate change science and solutions
August 8 – 10, 2017   Plus on-line pre course component
Climate change impacts our natural and engineered environments, our health, and our families. You hear about it on the news, but are you prepared to teach about the global impact of climate change? MADE CLEAR and NOAA invite educators in the Mid-Atlantic to apply for the 2017 Climate Change Academy.
Join us to learn about
The causes and effects of climate change
Human influence on climate change
How your students are impacted by climate change  
Solutions and stewardship activities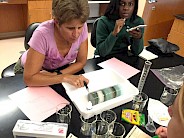 Jump into the science with NGSS-aligned three dimensional lessons, interactions with climate science experts, authentic data analysis, and on-line simulations. Share your classroom experiences with others working to bring this important topic to their students.
You will receive classroom materials and resources to start your climate change teaching portfolio. You may earn professional certification hours may based on participation and submission of an implementation plan. Lodging and meals will be provided.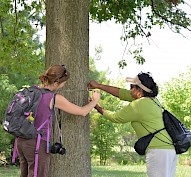 Location: Towson University campus, Maryland
For information visit email Pat Harcourt  pharcourt@umces.edu    or Bart Merrick bart.merrick@noaa.gov  
---
Classroom Education 
MADE CLEAR will offer an on-line Climate Change Academy this winter.
The content is the same, but the venue has changed. If you are a classroom teacher or educator at a non-formal education institution in Delaware or Maryland, join us January 23 to March 3, 2017 as we look at
the processes that lead to global warming
how human activity contributes to a warming Earth
local and global impacts of climate change, and
individual, community, national, and international mitigation and adaptation strategies.
The Academy involves about twenty hours of individual and small group work and will provide you with
background information about climate change,
experience working with teaching materials that weave together science, mathematics, and social studies content and processing skills,
time to discuss and evaluate how such activities address elements of the Next Generation Science Standards and other standards,
opportunities to discuss questions with research scientists, MADE CLEAR Teacher Leaders, and Academy colleagues, and
an open invitation to MADE CLEAR in-person educator workshops on February 25 and May 20.
See this announcement for details including information about stipends. We have applied for Delaware clock hours, Maryland CPD credits, and Baltimore City AUs.
TO APPLY: We are now considering applications on a case-by-case basis. If you are interesting in applying, email mrogers@ca.umces.edu.
---
The MADE CLEAR project's K-12 team prepares educators from Delaware and Maryland to teach middle and high school students about climate change. The program provides teachers with professional learning opportunities and research tools through our MADE CLEAR Academy and conference sessions. Find out more information in this article about the 2015 Academy.
Since July 2013, over 100 classroom teachers and informal educators have participated in our Climate Change Academies. The Academies provide up-to-date science content, model lessons and activities, and practical experience while diving into the complex topic of climate change and preparing educators to introduce it to students.
Use the map below to see where the teachers who attended our four Academies work.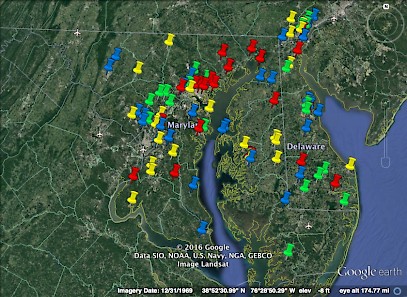 ---
Informal Education 
The informal education team has developed a collaborative approach, commonly referred to as a Community of Practice to understand the implementation and development of climate education efforts at museums, zoos, aquaria, natural resource agencies, nature centers and other informal education istitutions. The informal climate change education CoP members will collaborate to identify and work on common outputs including co-creating shared messages and identifying high-quality resources to enhance climate change education opportunities offered across learning contexts. The informal education team will explore whether and how different approaches to communicating climate change (e.g., application of critical thinking, translation by an educator, personal interpretation by the audience) are utilized by ISE professionals and which strategies work best for conveying climate change science. They will also describe the patterns of interaction among diverse informal science institutions during their participation in the professional development and the CoP. This network analysis will investigate whether existing relationships are strengthened, new relationships are formed, and the activities that members of the CoP engage in.
Additional information can be found on the Facebook page.