2018 Climate Change Academy for Educators
Do you want to teach about climate change?
NOAA, Delaware Sea Grant, and MADE CLEAR invite classroom teachers and informal educators from all subject areas to apply for this exciting professional development opportunity!
When
     Self-paced online component starts Monday, May 21, 2018                                                                                     
     In-person component runs Tuesday, June 26 - Thursday, June 28, 2018
Where
     University of Delaware College of Earth, Ocean, and Environment, Lewes, DE
     Lodging and meals will be provided
Join us to
•  Learn how to bring climate change and Earth system science into your classes
• Get started with climate change education in a self-paced on-line component
•  Meet climate science experts, and use real climate change data
•  Try out three-dimensional NGSS-based lessons and field studies
We'll focus on lessons and activities to investigate
•  The causes and effects of a changing climate
•  How climate change is impacting cities, ecosystems, farms, and coastal areas
•   Solutions and stewardship activities to address climate change
You will receive
•  Materials and resources to start your climate change teaching portfolio
•  A stipend of $300 for completing requirements
•  Optional professional certification hours for completing requirements
Information and application link   https://tinyurl.com/ClimateMWEEAcademy
Questions? Contact Pat Harcourt pharcourt@umces.edu  or Bart Merrick bart.merrick@noaa.gov 

MADE CLEAR is funded by National Science Foundation grant DUE-1239758
---
The MADE CLEAR project's K-12 team prepares educators from Delaware and Maryland to teach middle and high school students about climate change. The program provides teachers with professional learning opportunities and research tools through our MADE CLEAR Academy and conference sessions. Find out more information in this article about the 2015 Academy.
Since July 2013, over 150 classroom teachers and informal educators have participated in our Climate Change Academies. The Academies provide up-to-date science content, model lessons and activities, and practical experience while diving into the complex topic of climate change and preparing educators to introduce it to students. We have hosted educators from Brandywine Zoo, the National Aquarium, and various environmental education centers and classroom teachers of mathematics, ELA, social studies, STEM, science, and media services.
Use the map below to see where the Maryland and Delaware educators who attended our first five Academies work. Educators from Massachusetts, New Jersey, and Pennsylvania have also participated.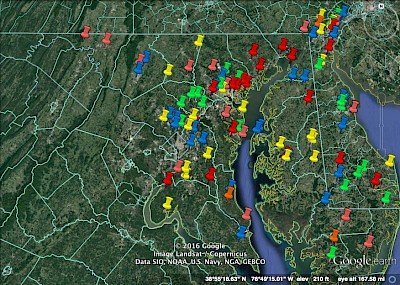 ---
Informal Education 
The informal education team has developed a collaborative approach, commonly referred to as a Community of Practice to understand the implementation and development of climate education efforts at museums, zoos, aquaria, natural resource agencies, nature centers and other informal education istitutions. The informal climate change education CoP members will collaborate to identify and work on common outputs including co-creating shared messages and identifying high-quality resources to enhance climate change education opportunities offered across learning contexts. The informal education team will explore whether and how different approaches to communicating climate change (e.g., application of critical thinking, translation by an educator, personal interpretation by the audience) are utilized by ISE professionals and which strategies work best for conveying climate change science. They will also describe the patterns of interaction among diverse informal science institutions during their participation in the professional development and the CoP. This network analysis will investigate whether existing relationships are strengthened, new relationships are formed, and the activities that members of the CoP engage in.
Additional information can be found on the Facebook page.