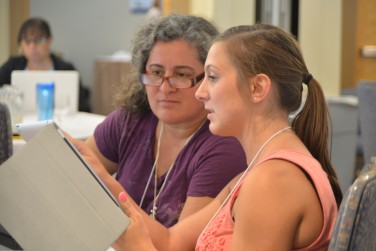 Communicating complex scientific concepts and findings in a way that is understandable to a broad and diverse public audience will advance efforts to increase public engagement in climate science, climate change consequences, and mitigation and adaptation opportunities. Communication is critical to instigate the needed large-scale change. Local and national decision-makers represent the people, but the people must convince them of the importance of climate change planning. Effectively informing the public requires engaging multiple generations.  We not only need to reach adults, but also today's children.  Students are in positions to affect change, and will be tomorrow's decision-makers.  The Next Generation Science Standards provide the opportunity to reach this generation, but science teachers need to be informed themselves to bring climate science into the classroom.
The MADE CLEAR program promotes three core pieces of communication. 
MADE CLEAR serves as a platform for educators to discuss and develop shared messages and to recommend resources for incorporating climate science into curriculums through an informal education Community of Practice.
MADE CLEAR strives to communicate an understanding of teaching strategies that work for different demographic populations.
MADE CLEAR is leading the Climate Communication Consortium of Maryland whose goal is to use local public opinion data on climate perceptions and knowledge of climate change to develop messages and education and outreach strategies. The Consortium facilitates collaboration in the communication efforts of government agencies and elected officials, businesses, non-profit organizations, advocates and citizens.  For more information, visit http://climatemaryland.org.
The following publications and websites can serve as resources that offer general communication strategies as well as specific examples of climate communication.
---
---
---
---
---
---
---
---
---